Tom McGee, L.C.S.W., has worked as a psychotherapist for over 30 years, focusing on emotional and spiritual growth.  He employs dream work, contemplative nature practices, wilderness experience, trauma work, compassion and imagination in his work.  He has facilitated men's growth through workshops, retreats, and groups since 1993.  Most recently, he has developed, with co-facilitator Richard Palmer, a body of work entitled, "Healing the Boy, Strengthening the Man."  He has been a trained spiritual director since 1999.  
In groups, retreats, and individually, Tom offers therapy and group work that bring healing, restoration, improved self-esteem, and heightened spirituality.  He is enthusiastic about helping others enter more deeply into their process of growth and maturation. For more information on Tom, see his website, TomMcGee.com.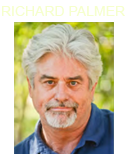 Richard Palmer of Ojai, California, has been a counselor for more than two decades. He offers counseling to individuals, couples, and families, and his love of soul and devotion to restoring the community of men has led him to become active in bringing initiation practices to that community.
Richard is a poet, healer, visionary, lover of beauty, and fierce advocate for the impassioned life. He has written three books of poetry, Scratching Stars in the Dirt, Grandfather Roots, and The Moan Inside of Things. Richard has studied many forms of healing, and brings his wisdom and experience to the mending of culture and the enhancement of beauty and soul in the world.
For more information about Richard, see his website, MentoringTheLifeOfTheSoul.